Home
»
Pricing, song list, Contact Me
Pricing, song list, Contact Me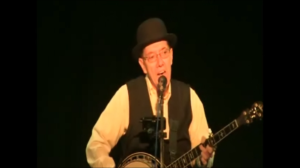 You have an event coming up, and you need a show that will dazzle the crowd, keeping their attention, and have them shouting for more.
This is that show. Stories, songs and non-stop laughs from days gone by.
– Hear about Cletus Jenkins and his wonderful failures.
– Learn about Sally Mae and her thunderous horse ride.
– Discover the wonderful street-car days of old Fernandina.
– Become part of the conversation between Uncle Charlie and the Nun.
Get away to a time when things were a whole lot simpler and we all knew what was up!
Come to 'The Olde-Tyme Family Hour' and re-live the Good Old Days.
Call me at (904) 607-3121 to discuss your event.
banjoman_15@yahoo.com
Thanks;
Chuck

Cost for the one-hour show is $150 plus certain expenses.
To hold the Date, a 50% deposit is required Qualified groups may obtain the show for just a Love-Offering, please ask.
Song list:
You are my Sunshine
This little Light of mine
I saw the light
Angel Band
In the Jailhouse Now
I've been working on the Railroad
Keep on the Sunny Side
Oh Susanna
Rollin' in My Sweet Baby's Arms
When the Roll is Called Up Yonder
I am a Pilgrim
She Caught the Katy
In the Sweet By and By
Wayfaring Stranger
I'll Fly Away
Down on the Corner
Green river
Bad Moon rising
The Midnight Special
Cotton Fields
I shall be Released
Proud Mary